Discover more from Bundle of Contradictions
Insights, recommendations and random thoughts on Asia and foreign policy from author Ben Bland
No time for wishful thinking
National security in Hong Kong, panda shruggers vs panda sluggers in India, Malaysia goes after migrants (and the media), and ASEAN tries something new
Dear friends,
Thanks again for subscribing to Bundle of Contradictions. Welcome to the second edition of my newsletter. Hopefully you'll bear with me through the terrible twos. Several hundred "movers, shakers and procrastinators" signed up in the first few days alone so you're part of a elite but growing group.
It's been another busy month of travel, conferences and round-table meetings with visiting guests. Just kidding. Like you, I've mostly been staring at a screen, drinking coffee, worrying about the world and trying to make it through endless online seminars.
But I did manage to escape Sydney on my first work trip of the Covid-19 era - heading to Canberra to catch up with diplomats from Southeast Asia and to talk to friends at the Department of Foreign Affairs and Trade about my forthcoming book, Man of Contradictions: Joko Widodo and the Struggle to Remake Indonesia. I can heartily recommend Lake Burley Griffin at sunset.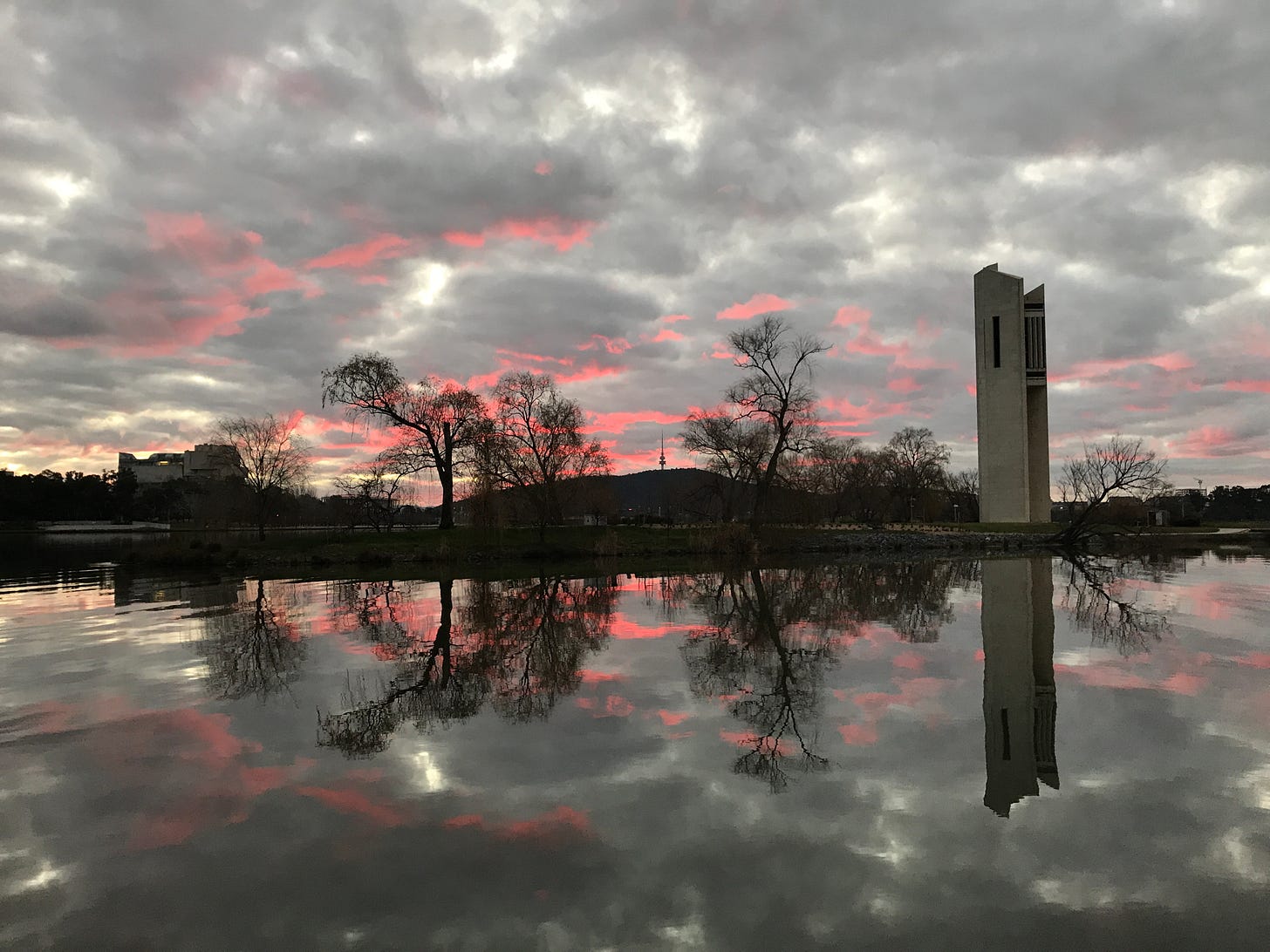 So what else has been on my mind?
Hong Kong: the little story that tells the big story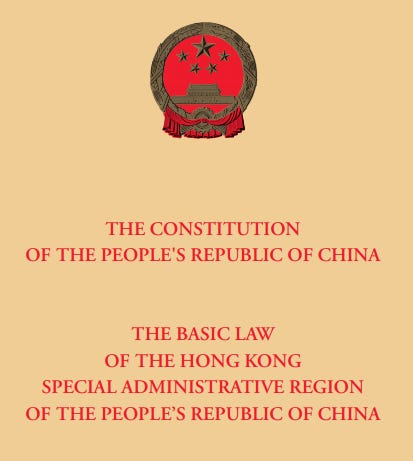 Working as a foreign correspondent for a decade, I learned that the key to explaining complicated developments to audiences in a faraway place is to find the little story that tells the big story. I came across a poignant example of this in Hong Kong recently.
While trying to check the text of the Basic Law, Hong Kong's mini-constitution, I opened the PDF on the official website and discovered that the government had quietly amended the document to insert the whole Chinese constitution ahead of the Basic Law. That expanded the document from 168 to 224 pages. More importantly, it was a striking indication that Beijing is now unashamedly calling the shots in Hong Kong.
The text of the much-feared national security law bore that out. It was much more wide-ranging than many had hoped. It effectively ends the pretence that Hong Kong has any meaningful autonomy and brings the Communist Party's capricious and repressive legal system to Hong Kong. I tried to explain the significance of this moment in a couple of pieces.
In the Australian Financial Review, I argued that international investors were making a grave mistake if they believed that the national security law would not affect them (more on China and wishful thinking later).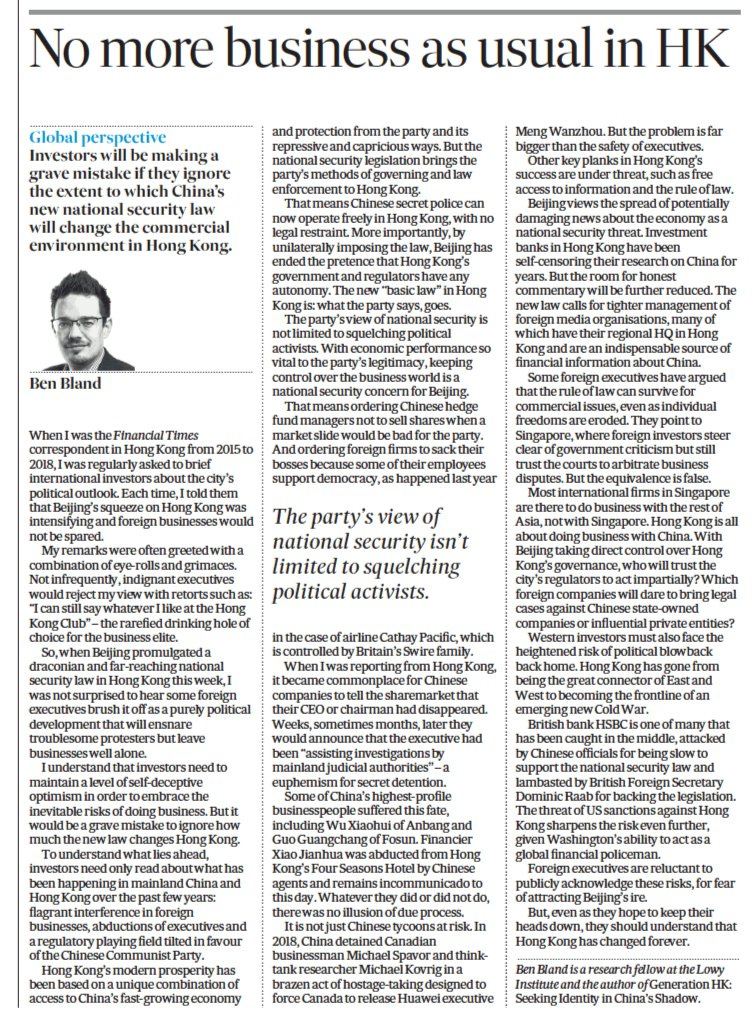 I tried to find a silver lining in a piece I wrote for the Nikkei Asian Review, arguing that the national security law could not erase the political awakening that has stirred Hong Kong over the last few years.
I cited the case of Nathan Law, who I interviewed in my first book, Generation HK: Seeking Identity in China's Shadow. In just five years, this intelligent, unassuming young man went from student leader to Hong Kong's youngest-ever elected legislator to political refugee, fleeing his home in the wake of the national security law. But he, like other young (and old) activists, will continue their struggle, at home and abroad. As Zhou Enlai told Richard Nixon in Shanghai in 1972: "wherever there is oppression, there is resistance."
India and China: Panda sluggers, panda shruggers and wishful thinking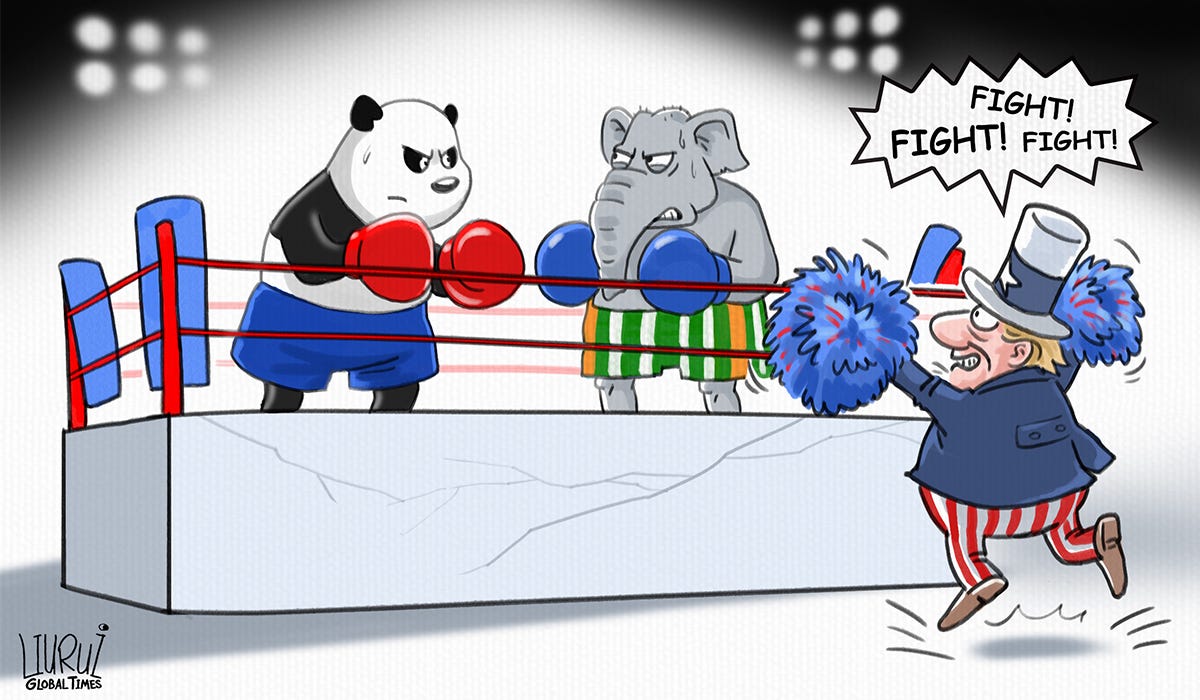 I don't often agree with the Global Times, the Chinese Communist party controlled tabloid that seems to reflect the zeitgeist of the current Chinese leadership. But this cartoon was on the money in reflecting the sense of schadenfreude in some security circles in the US (and the wider Western world) at seeing India and China square off in deadly hand-to-hand clashes along the Line of Actual Control on their long, disputed border.
(Misnomer alert for the uninitiated, including myself: despite the name, there are numerous overlapping lines and, evidently, there is no actual control.)
The US, Australia and Japan, among others, have been working hard to deepen their relationships with India, in part because they see it as a powerful emerging bulwark against China. India, which has a deep commitment to non-alignment (or multi-alignment depending on who you ask), is keen to hedge against China but has been reluctant to move too far toward any camp. The hope in Washington and beyond is that the recent intensification of border clashes will push India to toughen its approach to Beijing and abandon attempts to seek another Modi-Xi rapprochement.
I don't focus on India but am interested in the debate because it reflects how many in the West also see Indonesia - and because I completed a DFAT-funded research project on the Australia-India-Indonesia trilateral relationship earlier this year, alongside Evan Laksmana and Premesha Saha. And I've been following those who do know their stuff with interest.
Vipin Narang of MIT argues that the US is engaged in wishful thinking and that India will continue to "pick its own side" rather than bandwagon with Washington.
Taking the opposing view, Tanvi Madan of Brookings makes the case that the border clashes will strengthen the hand of the "Panda sluggers" in India vis-à-vis the "Panda shruggers" - there are no "Panda huggers" in India, she assures us.
Looking beyond India, I fear there is too much wishful thinking in the Western world about the desire and ability of non-aligned Asian nations to bandwagon with the West against China, even in some of sort loose "like-minded", "similar-minded" or "Quad plus" coalition. For a start, they fear prompting even more pressure from Beijing, as well as compromising their own sovereignty and room for manoeuvre. The lack of leadership from the US (putting it lightly, folks) is a huge further hurdle, as I argued in this debate for CSIS about Japan's ability to counterbalance China in Southeast Asia.
I'll leave the last word on India to Allan Gyngell, the former head of the Australian Office of National Assessments and the Lowy Institute. He got to the heart of the conundrum on his great Australia in the World podcast, which featured Harinder Sidhu, the former Australian High Commissioner in New Delhi, and co-host Darren Lim.
When I was writing about the history of Australian foreign policy, I came to the conclusion that every Australian government since 1947 had discovered India at least once in its term of office, decided that more should be invested in the relationship, exchanged ministerial visits, made speeches but then it would all ebb away… is it different this time?"
Migrant workers, Malaysia and media freedom
Those who were already vulnerable have suffered more than everyone else during the Covid-19 pandemic and one of the groups that has often been overlooked is migrant workers. The UN estimates that there are 10 million official migrant workers in Southeast Asia but there are many millions of undocumented migrants across the region, who live precariously at the best of times.
They help to keep the factories and service sector going in Thailand, Malaysia and Singapore, among other places. During the pandemic, many have lost jobs or been forced to live and work in unsafe conditions. Worryingly, the International Labour Organisation surveyed migrant workers across the region and found that one in three reported employment abuses and challenges related to Covid-19 (PDF here).
The second-wave of Covid-19 cases in Singapore should have been a wake-up call to us all about what happens when migrant workers are out of sight, out of mind, as Kirsten Han argued in Foreign Policy. (The inevitable Singapore government response is here).
But, just next door from Singapore, Malaysia is doing an even worse job when it comes to its migrant workers, as Al Jazeera exposed in this must-watch documentary.
For its efforts, Al Jazeera has been rewarded with a criminal investigation from Malaysian police for allegedly "attempting to sully the country's good name".
It's ironic because the new-old Malaysian government has been working hard to sully its own good name by launching a widening crackdown on journalists and other critics. In addition to the Al Jazeera investigation, the Malaysian authorities have prosecuted the country's leading independent news website, Malaysiakini, targeted an opposition MP over a tweet, questioned a prominent refugee activist over a Facebook post and, fittingly, banned a book called Rebirth: Reformasi, Resistance and Hope in New Malaysia.
Journalist Tashny Sukumaran, who is being questioned as one of the authors of the book, encapsulated the mood of many reform-minded Malaysians and friends of Malaysia:
And finally: ASEAN launches a magazine
It's the moment you've been waiting 53 years for. No, the Code of Conduct on the South China Sea isn't concluded yet. But ASEAN has launched its own magazine, as it seeks to step up its public engagement. It's good timing because, for those who haven't been paying attention, 2020 is the year of ASEAN identity.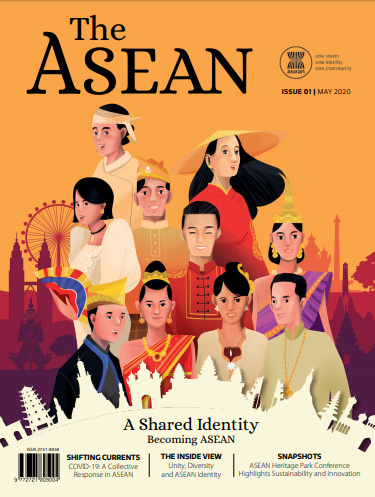 It would be too easy to make jibes, pointing to the turgid committee-written copy, and the fact that it's published as a clunky PDF (link to May edition here) not a funky website.
Instead, I had a read and was pleasantly surprised by some of the content. For the best of it, there's a sharp essay by Farish Noor, one of my favourite contemporary Southeast Asian academics, on why Southeast Asians need to better understand their connected history before they can develop a shared identity. He starts his piece - Strangers in our Own Neighbourhood - with a revealing anecdote:
Several years ago, while filming a documentary series about our common Southeast Asian history and identity, I persuaded the TV crew to indulge me in a social experiment of sorts. Filming in three different capital cities of three ASEAN countries, I walked up and down the main streets of the cities with a cardboard poster that bore the image of ASEAN on it. Randomly, I would stop people in the street—mostly youngsters—and asked them if they recognised the ASEAN symbol and knew what it meant. The answers I got from passers-by were random and mostly wrong. Some said "McDonalds," some said "Nike or some sportswear," some said "UN" and one even said "the Union Jack."
On the downside, there's this: an infographic explaining how the ASEAN Socio-Cultural Community works… it's a veritable mandala of bureaucracy🤦‍♂️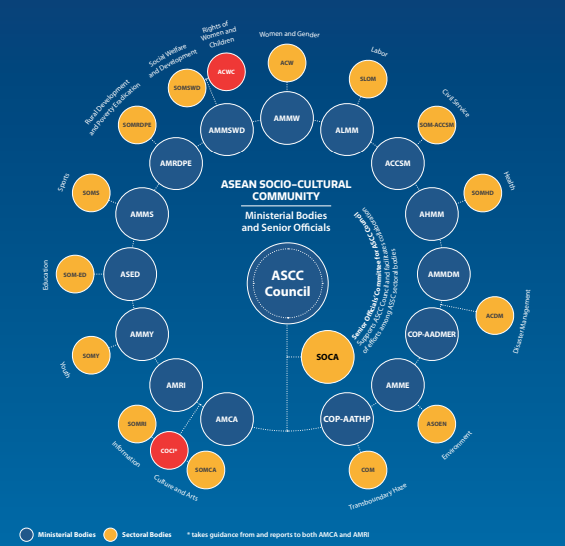 That's all for this edition. Thanks for reading to the end. If you enjoyed Bundle of Contradictions, do forward it to others who might enjoy it too. And get in touch with any feedback.
In the meantime, there's less than two months until the launch of Man of Contradictions and my book is on pre-sale now, with free global delivery at Book Depository, and with the Kindle versions available on the respective US, UK and Australia Amazon sites.
Keep well!
Ben